Strawberry Powder Pouch
Brand: FreshlyDried
Product Code:

Pouch resealable 6 oz (170g)

Availability:

22
Description
Freshly Strawberry*
Contains no artificial flavors or sweeteners.

Our Freshly Strawberry powder are perfect to make juices, smoothies, desserts or to compliment any food.
Suggested serving tips:
For juice: Mix 1 tablespoon of powder for each 3 oz of water and sugar to taste. Makes 8 fl oz. Serving per bag 5.
For desserts: Add powder to taste
Or simply use powder to compliment any food like milk, cereals, yogurt, milk shakes, ice screams, sauces, etc.
A diet rich in Strawberry lowers blood cholesterol levels while improving glucose control and insulin sensitivity, lowering the risk of subsequent heart disease and diabetes.
Some of its brilliant health benefits:
Eye Care: The primary reasons for almost all the problems of eyes are free radicals and deficiency of certain nutrients. With the growing age and lack of these protective nutrients, the harmful oxidants or free radicals cast heavy damage on our eyes, such as drying up of eyes, degeneration of optical nerves, Macular degeneration, vision defects and make them prone to infections too. The anti oxidants such as vitamin-C, Flavonoids, Phenolic Phytochemicals and Elagic Acid, present in strawberries can help avoid this situation to a great extent. One more factor is ocular pressure, i.e. the pressure of the eyes. Any disturbance in it is also harmful for the eyes. Here too, strawberries are helpful as they contain potassium, which help maintain right pressure.
Arthritis and Gout: The degeneration of muscles and tissues, drying up of the fluid which help mobility of the joints and accumulation of toxic substances and acids (such as uric acid) in the body are some of the ill effects of free radicals present in our body, which are primarily responsible for Arthritis and Gout. Strawberries, with their team of anti oxidants and detoxifiers, can effectively help push away such health hazards forever. It is a famous saying in India that a serving of any fruit a day will remove the rust from the joints. It is very true for strawberries.
Cancer: Vitamin-C, Folate and Anthocyanin, Quercetin and Kaempferol (few of the many Flavonoids in strawberries which possess excellent anti oxidant and anti carcinogenic properties) together form an excellent team to fight cancer and tumor. A daily intake of strawberries is seen to have remarkably brought down the growth of cancerous cells.
Brain Function: It is a very common observation that old people tend to lose their memory and control over their activities, limbs etc. This is because of aging of their brain and the nervous system. Actually, the free radicals, the agents very much responsible for aging, have a very adverse effect on these systems. Due to them, the brain tissues start degenerating and the nerves get weaker. Strawberries can help you out. The vitamin-C and the phytochemicals in them neutralize the effect of these oxidants and also rejuvenate the system. One more thing, strawberries are rich in iodine too, which is very helpful for proper functioning of the brain and nervous system.
High Blood Pressure: Strawberries are very good in potassium and magnesium content, both of which are very effective in lowering high blood pressure caused by sodium.
Heart Diseases: High fiber, Folate, no fats and high anti oxidants such as vitamin-C and those phytochemicals (Flavonoids) together form an ideal cardiac health pack, as they effectively reduce cholesterol. Some of the members of the vitamin-B family present in strawberries also strengthen the cardiac muscles and help better functioning of the heart.
Other Benefits: Folate is known to protect from birth-defects. Vitamin-C effectively prevents from infections and cold. The phytonutrients also have anti inflammatory properties. Wait! I forgot to tell you about the best benefit. The strawberry preserve tastes just awesome

Nutrition Values of Strawberry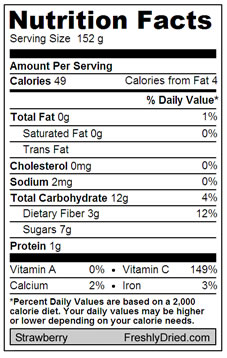 * This information is solely for informational purposes. IT IS NOT INTENDED TO PROVIDE MEDICAL ADVICE. Neither the Editors of Freshly Dried, the author nor publisher take responsibility for any possible consequences from any treatment, procedure, exercise, dietary modification, action or application of medication which results from reading or following the information contained in this information. The publication of this information does not constitute the practice of medicine, and this information does not replace the advice of your physician or other health care provider. Before undertaking any course of treatment, the reader must seek the advice of their physician or other health care provider.
Reviews (0)