Orange Powder Pouch
Brand: FreshlyDried
Product Code:

Pouch resealable 6 oz (170g)

Availability:

Out Of Stock
Description
Freshly Orange*
Contains no artificial flavors or sweeteners.

Our Freshly Orange powder are perfect to make juices, smoothies, desserts or to compliment any food.
Suggested serving tips:
For juice: Mix 1 tablespoon of powder for each 3 oz of water and sugar to taste. Makes 8 fl oz. Serving per bag 5.
For desserts: Add powder to taste
Or simply use powder to compliment any food like milk, cereals, yogurt, milk shakes, ice screams, sauces, etc.
Oranges are an excellent source of vitamin C. One orange supplies 116.2 per cent of the required daily amount of vitamin C. Good intake of vitamin C is associated with a reduced risk of colon cancer, as it helps to get rid of free radicals that damage our DNA.
Some of its brilliant health benefits:
Vitamin C, which is also vital for the proper function of a healthy immune system, is good for preventing colds and recurrent ear infections.

Anti-oxidants : In oranges help protect skin from free radical damage known to cause signs of aging. An orange a day can help you look young even at 50!

Oranges, being rich in vitamin B6, helps support the production of hemoglobin and also helps keep blood pressure under check due to the presence of magnesium.

Lower Cholesterol : According to a study by US and Canadian researchers, a class of compounds found in citrus fruit peels called Polymethoxylated Flavones (PMFs) has the potential to lower cholesterol more effectively than some prescription drugs and that too without side effects.
Fiber: in oranges helps by keeping blood sugar levels under control thereby making oranges a healthy snack for people with diabetes.

The natural fruit sugar in oranges, fructose, can help keep blood sugar levels from rising too high after eating.

Consuming foods rich in betacryptoxanthin, an orange-red carotenoid found in highest amounts in oranges, corn and pumpkin may significantly lower one's risk of developing lung cancer.

Oranges, like most citrus fruits, produce more juice when warmer — extract juice when they are at room temperature. Rolling the orange under the palm of your hand on a flat surface will also help to extract more juice. Vitamin C gets destroyed fast when exposed to air, so eat an orange quickly once cut up.
Nutrition Values of Orange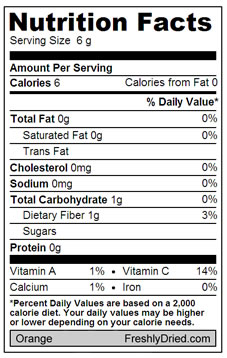 This article was contributed by Wikipedia.
* This information is solely for informational purposes. IT IS NOT INTENDED TO PROVIDE MEDICAL ADVICE. Neither the Editors of Freshly Dried, the author nor publisher take responsibility for any possible consequences from any treatment, procedure, exercise, dietary modification, action or application of medication which results from reading or following the information contained in this information. The publication of this information does not constitute the practice of medicine, and this information does not replace the advice of your physician or other health care provider. Before undertaking any course of treatment, the reader must seek the advice of their physician or other health care provider.
Reviews (0)