Grapefruit Powder Pouch
Brand: FreshlyDried
Product Code:

Pouch resealable 6 oz (170g)

Availability:

3
Description
Freshly Grapefruit*
Contain no artificial flavors or sweeteners.

Our Freshly Dried powders for Grapefruit juice are perfect to make juices, just add water and sugar.
The main source of nutrition in grapefruits come from vitamn C, which helps in strengthening the immune system. It also contains potassium and Vitamin A, K, D and B complex. Other than this, one can also find folic acid, calcium, phytonutrients and phosphorus in grapefruit. Moreover, these nutrients are not only present in the fruit, but also in its outer covering.
Some of its brilliant health benefits:
As intake of grapefruit helps in strengthening the immune system, one would be very less prone to common cold and fever. Moreover, consumption of grapefruit juice is a good way of curing fever. Drinking grapefruit juice is also an effective way of treating sore throat and cough.
One of the benefits of eating grapefruit is that it promotes the proper functioning of the digestive system. The fibers present in the fruit, especially in its rind prevents constipation and helps in smooth and regular bowel movements. Grapefruit is one of the best treatment measure for acidity. The juice of this fruit creates an alkaline reaction in the body, subsequently relieving the discomfort caused due to acidity.
It has been found that regular consumption of grapefruit is good for controlling high bood pressure. This mainly happens because of the presence of potassium in the fruit. It also has the ability to lower the level of cholesterol in the body, thus preventing several other diseases that accompanies it. However, if you are taking medications for cholesterol, it would be beneficial to consult your health practitioner before consuming grapefruit, because it may cause certain side effects if consumed with those drugs.
People suffering from diabetes can greatly benefit from the intake of grapefruit because it aids in flushing out the sweets and starches that gets accumulated in the body. If you have a family history of diabetes, consuming grapefruit regularly is a good way of preventing diabetes. It is even recommended to pregnant women as it is said to alleviate leg swelling which is a very common problem in pregnancy.
One of the greatest benefits of grapefruits is that it possesses anti-cancerous agents like bioflavinoids, lycopene, etc., especially in its rind, which helps in the prevention of various types of cancer like breast cancer, prostate cancer, etc. A study conducted on the effects of grapefruit on cancer patients showed that it helped in treating cancer to a certain extent.
A glass of grapefruit juice is absolutely refreshing and relieves a person from fatigue and tiredness. It is also said that people who have the problem of insomnia should consume a glass of grapefruit juice ever night before going to bed because it helps in putting a person to sleep.
Apart from all these benefits, grapefruit is actually famous because it promotes weight loss. Many people go on a grapefruit diet, because this fruit contains very less calories, and also certain fat burning enzymes which remove excess fat from the body. So people who are following a strict weight loss diet and exercise regime should try grapefruit and would surely see a change in weight.
As you now know about the various grapefruit health benefits, you must have surely realized the importance of including it in your daily diet. If you are avoiding grapefruit because of its sour taste, make a juice out of it by adding fruits that are sweeter. Drink it everyday and enjoy a good and healthy life!
Nutrition Values of Grapefruit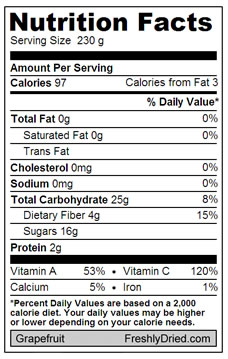 By Deepa Kartha
* This information is solely for informational purposes. IT IS NOT INTENDED TO PROVIDE MEDICAL ADVICE. Neither the Editors of Freshly Dried, the author nor publisher take responsibility for any possible consequences from any treatment, procedure, exercise, dietary modification, action or application of medication which results from reading or following the information contained in this information. The publication of this information does not constitute the practice of medicine, and this information does not replace the advice of your physician or other health care provider. Before undertaking any course of treatment, the reader must seek the advice of their physician or other health care provider.
Reviews (0)